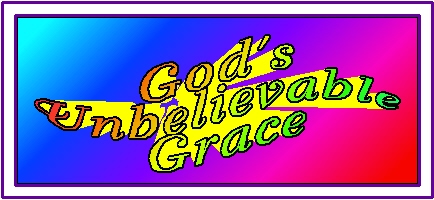 2 Timothy 2:1
Timothy, my dear son,
be strong through the grace that God gives you in Christ Jesus.
(The New Living Bible)

This grace of God makes us strong. So says the Apostle Paul to his son-in-the-faith, Timothy.
What did Paul mean by the strength that comes into our life through the grace of God?

To be strong in grace involves three things:
we have looked first, at the RESOLVE of Joshua to be strong in grace;
and second, we have seen how Samson fell asleep instead of allowing himself to be READY FOR ACTION and ALERT and be strong in grace.
Today we observe God's servant, Ruth.

Because she decided to take her courage for living from this wonderful grace of God which strengthened her, she was able to make this committment to her mentor, Naomi, and to the Lord God Almighty:
Ruth 1:
16 But Ruth answered, "Don't ask me to leave you! Let me go with you.
Wherever you go, I will go;
wherever you live, I will live.
Your people will be my people,
and your God will be my God.
17 Wherever you die, I will die,
and that is where I will be buried.
May the LORD'S worst punishment come upon me if I let anything but death separate me from you!"
(Good News Bible)

Like Ruth I know that since the Lord Jesus Christ stands with me, I can have this courage to live in the strength of His grace always.
I can make a committment to someone God has put in my life to help guide me to His destination.

Prayer:
Father, today I receive Your grace which was bought and paid for by the crucifixion of the Lord Jesus Christ;
and which was made available to me through His coming back alive from death.
Thanks for new strength showered upon me today through this wonderful grace,
in Jesus' name,
Amen.
See you tomorrow, God willing,
when you'll find a new thought here to challenge you!
Meanwhile, have a great day walking with the Lord!