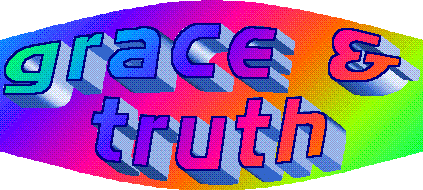 The Bible says in John's gospel chapter 1
14. And the Word became flesh and dwelt among us, and we beheld His glory, the glory as of the only begotten of the Father, full of grace and truth.
15. John (the Baptiser) bore witness of Him and cried out, saying, "This was He of whom I said, `He who comes after me is preferred before me, for He was before me.'"
16. And of His fullness we have all received, and grace for grace.
17. For the law was given through Moses, but grace and truth came through Jesus Christ.
John the Baptiser was older than Jesus by six months, yet he says that Jesus was before Him. On face value this appears to make no sense. But when you remember that Jesus Christ did not begin when He was born in Bethlehem, John's statement becomes clearer.

Bethlehem was merely the beginning of Jesus's earthly life. Before that He was the Word, eternally existent, the One who made the beginning. He entered time for a period of 33 years and then left again, having risen from the dead and He has returned to eternity.

While He was on the earth, what was most noticeable about Him was His grace and truth. If we have truth without grace, all of us are declared guilty. But if we have grace without truth, there might be no justice. Therefore, in Jesus Christ there is a perfect balance of mercy and justice: grace and truth. This is all to our benefit.
Prayer:
Heavenly Father, thank You so much that Jesus Christ,
my Redeemer, is full of grace and truth.
Though He knows the truth about me,
He is willing to apply His blood to my sins
so that I am cleansed and His grace is now abailable to me.
Thank You for the benefit of grace and truth,
in the name of Jesus,
Amen.
See you tomorrow, God willing,
when you'll find a new thought here to challenge you!
Meanwhile, have a great day walking with the Lord!